Articoli Correlati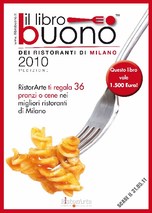 For a few days now is on newsstands the first edition of a new guide, dedicated to the best restaurants in and around Milan, which it is much more than just a handbook to consult. Indeed, "The Good Book" as well as to review 36 of the best restaurants in Milan, offers something more: the chance to have free lunches or dinners in restaurants presenting the "good diner" Annex.
Tag:
vecchia magenta
,
taverna del sacripante
,
small cuisine
,
restaurants milan
,
osteria del riccio
,
osteria dei vinattieri (s. donato)
,
le noir-the gray
,
la villetta (trucazzano)
,
la colonna
,
la cantina manuela (saronno)
,
l'assassino
,
il vico della torretta
,
il maglio
,
il libro buono
,
il ficodindia
,
il 400
,
guida ristoranti milano
,
frantoi celletti
,
farinella
,
dulcis in fundo
,
chic'n chick (sadler)
,
cafè trussardi
,
blue note
,
bistro bovisa
,
antica trattoria bagutto
,
anadima
,
al 91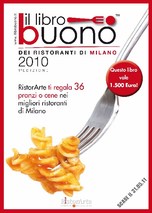 Da pochi giorni è in edicola la prima edizione di una nuova guida, dedicata ai migliori ristoranti di Milano e dintorni, che vuol essere molto di più di un semplice vademecum da consultare. Infatti "Il Libro Buono", oltre a recensire 36 tra i migliori ristoranti milanesi, offre qualcosa di più: la possibilità di consumare gratuitamente pranzi o cene presentando ai ristoratori il "buono commensale" allegato.
Tag:
vecchia magenta
,
taverna del sacripante
,
ristoranti milano
,
osteria del riccio
,
osteria dei vinattieri (s. donato)
,
le noir-the gray
,
la villetta (trucazzano)
,
la colonna
,
la cantina manuela (saronno)
,
l'assassino
,
il vico della torretta
,
il maglio
,
il libro buono
,
il ficodindia
,
il 400
,
guida ristoranti milano
,
frantoi celletti
,
farinella
,
dulcis in fundo
,
chic'n chick (sadler)
,
cafè trussardi
,
blue note
,
bistro bovisa
,
antica trattoria bagutto
,
anadima
,
al 91
1 of 1
IN EVIDENZA