Eataly
New York wakes up early in the morning with Lavazza coffee that offers Cappuccino, espresso and Italian brioches, while the food corners prepare for the day.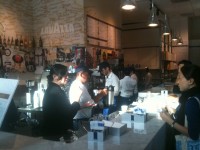 Identity New York is starting, the event thanks to which citizens of the Big Apple meet 11 Italian chefs, each with its own specialty. In large subterranean kitchens of
Eataly
New York I was not able to go to see the work of the chefs, but I can share the space and the presentation of the chefs and their dishes, which will be ready from today at 17 (local time, logically). Here are: The seafood restaurant
CRISTINA BOWERMAN
with "
Il bosco e la cappasanta
" (Scallops "al bosco")  and  
PINO CUTTAIA
with "
Merluzzo all'affumicatura di pigna, patata schiacciata, condimento alla pizzaiola
" (Pine Smoked Cod, Smashed Potatoes, Pizza Sauce)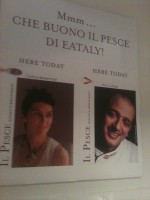 In the corner of raw dishes
MORENO CEDRONI
"Ricciola con salsa di porro, basilico, amaranto e viola del pensiero"
(Amberjack with leek sauce, amaranth basil and pansies)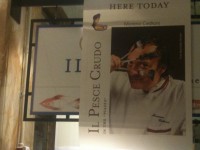 In the "square" (the large central space from which will be the "start")
EMANUELE SCARELLO
"Risotto all'acqua e "velo" di Grana Padano, mandorle armelline e tartufo nero"
(Infused 
Grana Padano
Risotto "all'acqua" with black truffle and "amaretto"essence).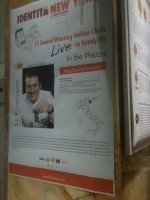 Emanuele Scarello also offers a menu of two courses:
Menu Birra Moretti
Risotto all'acqua e "velo" di Grana Padano, mandorle armelline e tartufo nero
the dish is served with Birra Moretti La Rossa, to extend the bitterness of the almond with the persistence of the taste of beer
Oil, beer and scallops
created by Emmanuel Scarello in collaboration with Tatsuya Iwasaki: The dish is served with Birra Moretti Lager for the best contrast between sweetness and bitterness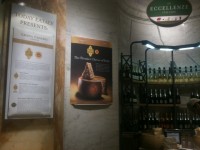 At "Manzo", the restaurant of meat led by Batali, we find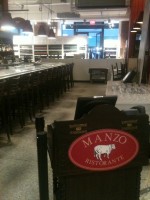 DAVIDE SCABIN
"Filletto di Fassona impanato alla torinese con cipolline glassate al Barolo e salsa inglese salata"
(Breaded beef filet "alla Torinese" with Barolo glazed onions and a Savory Salsa Inglese) and
MASSIMO BOTTURA
, with its timeless pasta and beans and "compressione di pasta e fagioli" (Then and Now: Pasta e Fagioli)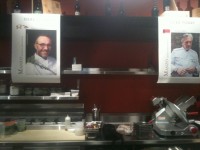 For the pasta:
GENNARO ESPOSITO
,
also with a strong dish of his history:
"Minestra di pasta mista di Gragnano con pesci di scoglio e crostacei"
(Mixed seafood soup with Gragnano pasta) and
UGO ALCIATI
"Agnolotti al sugo di arrosto e Grana Padano Riserva"
(Agnolotti with Roasted Meat Sauce and 
Grana Padano
Riserva)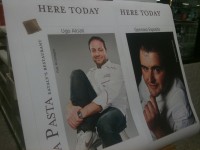 For the vegetables:
PIETRO ZITO
"Passata di zucca gialla, olive nere sotto cenere e pecorino canestrato"
(Yellow Pumpkin Puree, black olive "in ash" and "canestrato" pecorino) and
NIKO ROMITO
"Assoluto di cipolle, Grana Padano e zafferano"
(Absolute simplicity:  onions, 
grana padano
and saffron)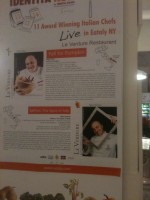 Finally, to end on a sweet note
LUCA MONTERSINO
, with its Sweets "al cucchiaino" (Sweets to the "spinner")