Homepage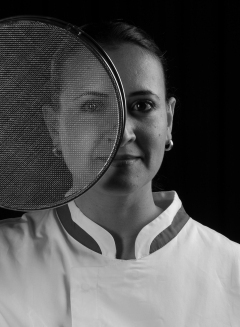 Identità London 2010:Italian Gastronomy at its best!
Identità London 2010 – Italian Gastronomy at its best! By Luciana Bianchi www.twitter.com/LucianaBianchi
The 2010 London edition of Identità Golose will be remembered for a long time! Paolo Marchi, the soul of the event, and Lotus PR brought to the capital not only an event, but a piece of Italy! For two days, participants enjoyed the 'dolce vita', as fabulous producers presented their best products with great generosity. Chefs shared their ideas with professionals, foodies and journalists. Loud talking, singing, cooking, tasting, and many experiences were also shared at the congress. We had good weather, good food and wine, and great company, and were in Italy for two days in the heart of London
The theme this year was 'The Luxury of Simplicity', and it explored what Italian cuisine is about. From the early times of Pellegrino Artusi through the foundation of Italian contemporary cuisine by Gualtiero Marchesi, up to today, the principles of Italian cuisine remained unchanged. The products are themselves the stars, and the chefs, whether with traditional or avant-garde philosophy, are the 'maestros'. Italian chefs were not alone on the stage at Identità London 2010, but all the international guest chefs had the same basic approach to their cuisine as their Italians colleagues.  The main focus was on top quality products, and on the wish to transmit emotions and excellence through their dishes. The British 'team' was represented by Jason Atherson, ex-Maze Gordon Ramsay, soon 'flying solo'; Ashley Palmer-Watts, the executive chef of 'Dinner by Heston Blumenthal', the new restaurant to be opened in December at the Mandarin Oriental Hotel in London; and Sat Bains, from Sat Bains Restaurant in Nottingham. Asia was represented by the irreverent and creative Alvin Leung, from Bo Innovation in Hong Kong, who gave an entertaining presentation of his signature dish - 'Sex on the Beach'. The US 'team' included David Chang, from Momofuku, NY, Wylie Dufresne and Alex Stupak from WD50, NY, and Daniel Patterson from Coi in San Francisco. Alexandre Gauthier, from Grenouillere in France, came alone, but with a very powerful and confident presentation of his 'cuisine de la douceur et brutalité'. And the 'Azzurri' were represented by
Gennaro Esposito
, from Torre del Saracino in Naples;
Massimo Bottura
, from Osteria Francescana, in Modena;
Andrea Berton
, from Trussardi  alla Scala, in Milan; the brothers
Enrico and Roberto Cerea
, from Da Vittorio in Bergamo; Massimo Riccioli, from Restaurant La Rosetta in Rome, the executive chef at the new Corinthia Hotel in London; and
Davide Scabin
, from Combal.zero in Turin. The most Italian German chef on the planet – Heinz Beck, from La Pergola in Roma, and Apsley in London was part of the Italian team too, who proved with their very distinctive styles that there is not one Italian cuisine, but many! There were many highlights at 2010 Identità London. The selection of Italian products was small but excellent. Slow Food Italy and Buonaitalia's stand presented their projects in a very relaxed but effective way. 12 Slow Food Presidi products, now at risk of extinction, from Piedmont, Veneto, Sardinia and Puglia were presented and served at their stand: Ravioli filled with Piedmontese Fassone beef by chef Ugo Fontanone of Taverna di Fra Fiusch, Montcalieri; Malloreddus pasta with Campidana-style sausage and tomato ragout by chef Claudio Ara of Sa Piola della Vecchia Trattoria, Cagliari; tender pieces of marinated Alpalgo lamb, with rocket salad and truffles by chef Riccardo De Prà , of Dolada in London.  These dishes were accompanied by wines - Dolcetto, Barbera, Nebbiolo, Barbaresco – Cascina Baricchi, Pedraia Nuragus DOC, Grotta Rossa, Carignano DOC – Cantina Santadi, Karmis, Tharros IGT – Azienda Attilio Contini, and many other wines quite unknown in the UK. The very special dinner on the opening day was held at Ristorante Dolada, and was prepared by Chef Riccardo De Prà, using products from Slow Food Presidia. The dinner was hosted by his lovely sister Benedetta. The Passatina di "Mandorle di Toritto e fresche di Notto", capelonghe e basilico was the star of the evening! A brilliant dish created by Chef De Prà, especially for the occasion. Back at the Identità venue, Prosciutto San Danielle, Lardo del Po, salami, prosciutti, wonderful Panini and finger sandwiches prepared by grana padano, exquisite olive oil from Fratelli Aprile, coffee from Lavazza, birra Moretti, and full time hydration from San Pellegrino and Acqua Panna were available for guests during the day!  Beyond the chef demos and 'food piazza', tastings of grana padano and wine, and other food and wine matching tastings were held in the press lounge.  One very exciting stand of micro vegetables and herbs from Koppert Cress B.V. -  with a mini exotic edible garden, containing oyster  leaves, salicornia cress, karma orchids, sea fennel, peppery  shiso leaves, fizzy Sechuan cress, and many other striking flavours was well visited by curious chefs and foodies. Tom Parker Bowles, the well-known food writer and step-son of Prince Charles, blended perfectly into the spirit of Italy, clearly enjoying every moment, and bonded with chefs and audience like none other. Together with Marchi, they shared their views and perspectives about the dishes, engaged the audience throughout the presentations, and even shared their 'difficult job' of tasting all the dishes with the lucky people in the first rows. Ashley Palmer-Watts presented some of the dishes of the new restaurant 'Dinner by Heston Blumenthal' in a very well-structured presentation. The menu, based on historical dishes of Britain, will, according to the chef, have a 'touch' of The Fat Duck and Heston Feasts (the entertaining TV show about food and history from Channel 4). However, the restaurant at the Mandarin Oriental Hotel will have its own character. Massimo Bottura – what can we say about Massimo? He needs no introduction; he fills the stage with his presence, and his profound thoughts about food and art are one of a kind! Massimo represents the contemporary Italian cuisine as no-one else, with a deep love for his roots, and courage to try the unknown. There are no boundaries to Massimo's creativity, and his presentations transport the public into a universe of flavours, textures and freedom of artistic expression. Heinz Beck's reflections about health and food were very well received by the visitors, making a valid point about the importance of awareness about how and what we eat. His dishes conveyed his love of and ideas about Mediterranean food and life style in a unique approach. Beck is accepted by his fellow Germans, and equally loved as a brother by his Italian colleagues.  He is very respected too in Britain and around the world for his consistent work of technical perfection and sensibility – a rare phenomenon in the food industry! Andrea Berton combined elegance and perfection with his dishes. Complexity with simplicity is not a contradiction for Berton, who managed to impress deeply not only foodies, but also the professionals at his presentation. According to many of those present, the pasta margherita from David Scabin was the dish of the event.  A moment of true genius, which expressed 'The Luxury of Simplicity' very well –Scabin has a powerful voice, an unforgettable presence on stage, and his cuisine is incomparable! The brothers Cerea closed the congress, creating the atmosphere of their restaurant in front of the stage, where Luisa Marchi and a film technician were the guests for the 'acting dinner'. At the end of their presentation, a giant bowl of grana padano cheese came from the Vinopolis kitchen, filled with the most wonderful risotto by the Cerea's brothers.  So closed Identità London 2010 with a moment which highlighted the real Italian happiness of sharing good food!
You are invited to watch a small film with two of the best moments of Identità London 2010.
In questa notizia
IN EVIDENZA