Homepage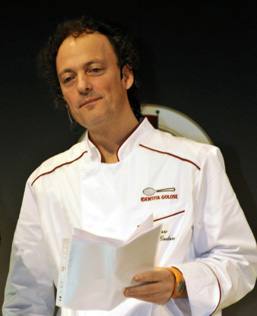 Verrigni: protagonist of Cibus 2010
The Old Pasta Factory Verrigni will participate at Cibus, supported by chef Moreno Cedroni, will present more than 80 dry pasta shapes and a new line of artisanal preserves.
The Old Pasta Factory Rosetano Verrigni is pleased to be present at the 15th International Food Exhibition to be held in Parma 10 to 13 May 2010, supported by the presence of the renowned chef
Moreno Cedroni
that will present the eponymous line of preserves, including sauces with fish. With over 60 thousand visitors from 55 countries, recorded in the previous edition, Cibus surely ranks among the most important events in the international food landscape, offering an unmissable opportunity for those wishing to discover the most important news and known the new trends in taste. The Pasta Factory Verrigni will be among the actors who will animate Cibus, presenting to the public over 80 formats of artisanal dried pasta made with durum wheat, Kamut, Senatore Cappelli Wheat, barley or salted. Verrigni, besides being one of the first Italians to make semolina pasta from organic grains, certified by ICEA, stands on the market for creating the drawing in gold: a unique type of manufacturing that only the Old Pasta Factory Rosetano Verrigni sell. From the drawing gold were born "spaghettoro" and "fusilloro" innovative products that differ from traditional pasta because of the different texture, new and more refined so that blind tasting test and analysis test confirmed that the extruded dough into gold, probably due to the mixture undergoes less stress in contact with noble metal, have a new roughness, sweetness and a distinctive note that is not indifferent to the palate.
IN EVIDENZA