Homepage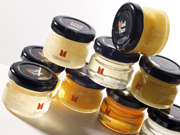 Thun Honey at the Superstudio in Milan
The Thun Honey and the owner Andrea Paternoster at the Milan Design Week, Thursday, April 15th. Honeys of excellence, Milan design!
The installation is organized by Officinanove called Honey-Way by the name of the leading product that will be presented in all its forms at the Superstudio in Milan, during the manifestation of Design Week 2010, Thursday, April 15th from 18.00 to 21.00. Honey-Way is a modular container element, with doors, characterized by a hexagonal cell honeycomb, designed by Bedini, Raco and Settimelli from thecompany Design IS In And Out Space. From here, the architect Daniele Bedini, designer of Honey-Way, thought to a presentation / installation based on the 'world' of the Bees and Honey. All the installation focuses on the enormous central 'honeycomb' hanging from the ceiling, consisting of hundreds of items in gradations from yellow to orange. The installation will also enrich the participation of Thun Honey from Trentino and their patron
Andrea Paternoster
. In a modern "Journey into Flowers - playful honey", the art of beekeeping and the design will be told by Andrea Paternoster, and declined for the guests in the essentiality of their color and flavor extraction by the chef
Alfredo Russo
of the stared restaurant
Dolce Stil Novo alla Reggia
, or in the creations of skilled craftsmen,in beer, cheese and mead. Thun Honey of excellence, design, Milan: a triad architecturally perfect! Info and reservations at the event:
www.mielithun.it
. If you want to do a nice trip in Trentino, in the company of Thun Honeys, Saturday, April 17th, 2010, here is a very interesting event:
Barefoot in the Thun Park
.
IN EVIDENZA