Homepage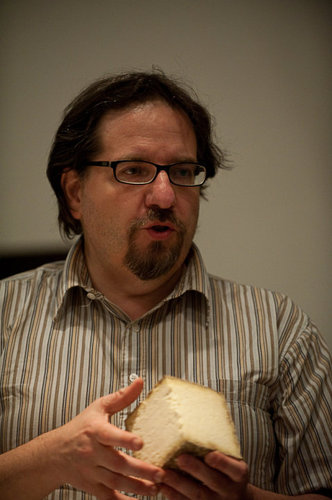 The typical Italian cheeses or those strange of Lombardy
Italian cheeses, goat cheese, salt ricotta, smoked ricotta and blue cheese? Sure, but all made in Lombardy and advised by Paolo Leone!
The typical Italian cheeses, goat cheese, salt ricotta, smoked ricotta and blue cheese?  ItaliaSquisita asked the master taster Paolo Leone of Hobby Cheese (
www.hobbycheese.it
) to advise us some typical Italian cheeses in their most bizarre and captivating manifestation. Some treat to smell and taste to see that the cheese belong to a spectacular world. Good cheese! The best known is certainly the strange Pannerone produced in the province of Lodi and Cremona. The manufacturer has advised the dairy Carena (www.caseificiocarena.it).It is a cheese from raw cow milk, raw paste, at quick maturity and certainly not salty! Forms contained in the typical wooden beams to listings connected by string. Smell of butter and very bitter taste. We go in the northern lake areas. In the area of Lake Como and Lake Varese (also in Switzerland) it is produced the Zincarlin that would be a "salted and flavored ricotta cheese", made with fresh cow's milk whey, adding acid serum (from the previous year!) supplemented with leaves, lemon wedges, green plums, goat's milk (sometimes) and vaccine, salt pepper, garlic, and sometimes chili. The format varies, often according to the container, being a product of company 'recovery'. Speaking of ricotta, here's the hard smoked cheese, excellent for grating, it is produced by a company of Malonno in Vallecamonica (Agricola Canti Daniela - Tel 0364 635 120). Remarkable, not only to dress pasta, but also following a traditional recipe, on boiled beans: strange combination but very profitable. What about between the blue cheeses, of goat aged in rose petals and berries (Öl Sciur), or in linden flowers (Celtico). The manufacturer is La Via Lattea in Brignano Gera d'Adda (BG). Besides this the "Cusiè", a "roll" similar to the one that produces the potato gnocchi, made with goat milk and yogurt. Very special in both form and flavor, great when aged. Production is not constant in terms of quantity, but always spectacular in terms of taste (
www.la-vialattea.it
). Finally, the 'Sbrisola', cow's milk cheese produced by dairy Taddei in Fornovo San Giovanni (BG), which with a similar technology to the production of Castelmagno, gets a product at the right seasoning that is more soluble and releases an almost spicy and very persistent flavor. Very well accompanied by red wines structured and aged or even classics dessert (
www.caseificiotaddei.it
).
IN EVIDENZA