Homepage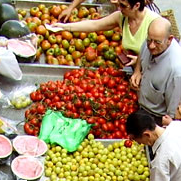 The Slow Food Market returns to Milan
Saturday, February 20th, from 9 to 15, an appointment with Slow Food and the Earth Market in Milan at the Liberty Palazzina.
After the successful first edition held in December the
Earth Market
in Milan, replicates the event which brings producers and consumers together. When and where? Just Saturday, February 20th, from 9 to 15 at the Gardens Largo Marinai d'Italia, where was hosted the old orchard, old vegetable market of the town, near the Liberty Palazzina. At the farmers' market, organized by Slow Food, forty participating manufacturers mainly from South Milan Agricultural Park. They are also represented the agricultural areas of Bergamo, Como, Lecco, Lodi, Monza and Brianza, Pavia and Varese. You can buy fruit and vegetables, cheese, bread, beer, street food and more. Visitors can meet the cheese makers of Slow Food Presidium Pannerone of Lodi and special guests from Sicily, the producers of the Consortium "Le Galline Felici". You can buy directly from producers Sicilian red oranges and fish from the Cooperative Gulf of Catania. Also will be offered a space for the "Tables of friendliness" dedicated to users of the market who want to take a break with delicious products just bought, or simply "talk at the market". The other appointments will be Milan's Earth Market Saturday, March 20th and Saturday, April 17th.
www.mercatidellaterra.it
www.slowfoodmilano.it
www.nutriremilano.it
IN EVIDENZA