Homepage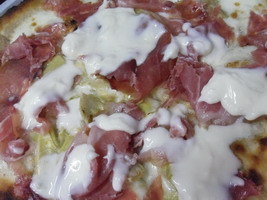 The paradise of pizza? At Vimercate!
At Marco and Giulia the research of quality is on the agenda
If you are near Milan and would like to experience a recipe of Neapolitan pizza, personified and with an incontestable  quality level, is a must a stop at the the "Paradise of pizza" in Vimercate. In this little corner of Eden - in an old shopping center - Marco Locatelli and Giulia Battafarano, devoted every day, from December 2008 to create the most popular street food in Italy. Of course they also start from a dough of flour, water, salt and yeast, but the careful choice of ingredients, from the flour - or better said flours, organic and biodynamic, ground stone, come from the "Mulino Sobrino" and "Mill Marino "- and the time spent working, makes a difference.  When the couple decided not to run more than a pizza business, to focus on quality and substance, they dedicated their time to research and constant experimentation: from the type of flour (just organic, stone ground, little refined, the weaker been 0) to very long rising time (up to 72 hours), to the use different yeast mother (the oldest of about 130 years and the younger they create) to the weight of mixture (always equal), from the creation of the  cornice to the attention for the filling products    (Cetara anchovies, Sardinian Selarginus capers or Pantelleria capers, Calabria Brawn, DOP San Marzano tomatoes). Among the details that have these two cordial guys is the trash mix: here it can be taste the pizza base which contains the waste beer processing. This exclusive and very popular idea was born from the collaboration with the brewery
Menaresta
(producer of craft raw beer Brianza). Besides offering a range of really interesting a beer, the restaurant has available other goodies, from the area, production of brewery 
Carrobiolo
. Finally,it is important to notice the excellent value for money.
IN EVIDENZA