Homepage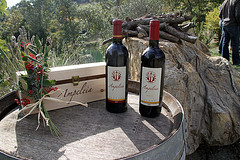 The discovery of two Tuscan red wines
The Ampeleia winery was founded in 2002 from the vision of Elisabetta Foradori, Giovanni Podini and Thomas Widmann, three friends that before creating a company dreamed to produce wines that could express all the biodiversity of an area: that the Maremma.
Ampeleia is not only one of the many wineries in Tuscany, but a project that has at its center interaction and the study of the synergy between man and nature. Why cellar Ampeleia born just for fun from the meeting and friendship of three people:
Elisabetta Foradori
, Giovanni Podini and Thomas Widmann – winemaker and producer of wine the first, wine lovers and connoisseurs the other two. Make the scene of this project the rolling hills of the Maremma area surrounding the village of medieval origin of Roccatederighi (GR). An area suited to grow grapes already in ancient times but in the last century it was gradually abandoned. Starting in 2002 with a patient selection and zoning, other parcels were gradually replanted with the varieties of grapes more "Mediterranean." Today the winery Ampeleia covers three levels of altitude, Ampeleia Above, Middle and Lower (between 200 and 600 m above sea level) presenting each morphological and structural diversity of soils, including a total of 150 hectares of which 50 of vineyard. The various vineyards give rise to grapes of great character, each expression of its territory (in terms of altitude, diversity of soil and microclimate, vine, exposure, etc.).The annual production reaches 120,000 bottles divided between two types of red wines from Tuscany. Ampeleia is the most representative wine, what the three partners were able to accomplish just as they had dreamed of, composed of 50% Cabernet Franc, Sangiovese 20% and the remaining 30% from five varieties of the Mediterranean basin. High personality and character before being marketed, ages 16 months in barrels and for 17-18 months in bottle. Kepos - which in Greek means garden, but it's only the fruit of Mediterranean varietals (Grenache, Mourvedre, Carignano Marselan and Alicante) of the parcels of Ampeleia of Sotto and Mezzo; before aging 5 months in bottle for 11 months mature in cement tanks and wooden vats. It offers immediate drinkability, remembering the scents of the Mediterranean and offering intense aromas of spices, fruits and flowers.
www.ampeleia.it
IN EVIDENZA