Homepage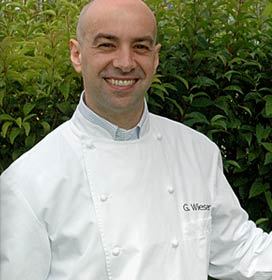 The creative cuisine of the Hotel Castel Tirol
The restaurant "Trenkerstube" of the Hotel Castel Tirol and chef Gerhard Wieser are awarded with two Michelin Stars.
The Tirol Tourist Association has extended its culinary excellence offer: the "Trenkerstube" is awarded with 2 Michelin Stars. The culinary art of chef Gerhard Wieser is expressed in the restaurant Trenkerstube, at the Hotel Castel Tirol (BZ) and, in addition to 17 points and 3 hats Gault Millau, the 4 tablespoons Aral Schlemmer Atlas, the 4 "Feinschmecker F", the 15 points Espresso, the 86 points Gambero Rosso, this year also praise two Michelin Stars. The undisputed star is
Gerhard Wieser
, chef's home of Dobitsch Family, whose motto is "the culinary art is a way to present guests a land and its culture." And it is so: savoring his dishes you have the feeling of entering more deeply into the territory and traditions of South Tyrol. Author of books and gourmet cookbooks including "Cooking in the Dolomites", "Our Italian cuisine" and "The delicious cuisine of the Dolomites", the chef keyword is surprise, stimulate the host and its visual and taste sensations. The culinary creativity of Gerhard Wieser is characterized by love for the elements of the south, in search of creative cuisine and Alpine-Mediterranean area through the use of modern techniques. The kitchen is accompanied by the passion and dedication by the expert sommelier Markus Thaler, who selects the best wines of the territory. Congratulations therefore to the excellence of the Hotel Castel Tirol!  
www.hotel-castel.com
IN EVIDENZA