Homepage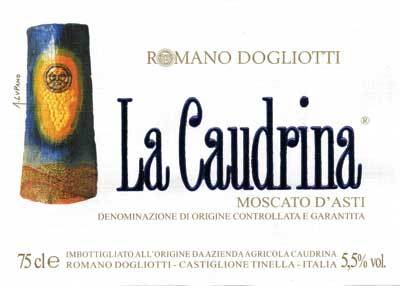 The Caudrina, Moscato d'Asti of Excellence
At Castiglione Tinella (CN) the Company La Caudrina of Romano Dogliotti created a really interesting triad of Moscato d'Asti.
In the small town of Castiglione Tinella (CN), between Langhe and Monferrato, the work of Romano Dogliotti and his company Caudrina (
www.caudrina.it
) reached levels that really matter. With dedication and intelligence started to produce initially a Moscato d'Asti simple and intriguing at the same time, the Caudrina. Then, from the vintage '89, the path became more sought after by another cru has begun to produce The Galeisa, also a Moscato d'Asti. Aromatic, complex and sweet, this wine has a lingering aroma, full bodied and velvety. A step forward in the sensory research the Moscato d'Asti - the Caudrina. With the typical sweet of Cuneo, such as jam tarts with berries or the cake with hazelnuts, border the perfection match. But the surprises are not over and here comes in 1993 the Selvatica, Sparkling Asti DOCG. With the intense and complex perfumes, sweet and smooth flavor is added the feeling of lively bubbles. Perfect with the sweets of the holidays, like Easter Panettone or the Colomba. With strawberries is even erotic. Romano Dogliotti is the perfect sweet triad of Moscato d'Asti.
IN EVIDENZA