Homepage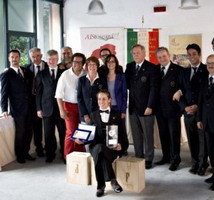 The Best Tuscany Sommelier AIS 2010 is ...
The Festival of Franciacorta crowns Valentina Merolli Best Toscana 2010 AIS Sommelier
Sunday, June 27th at the Fiumetto of Versiliana Marina of Pietrasanta, at the Franciacorta Festival, between tastings and live music, took place the final contest of the Best Sommelier of Tuscany AIS (Italian Sommelier Association) of this year. The Festival this year has been very successful, with a large turnout of visitors: the numbers (over 1400 persons in the weekend) of the event agree with the organizers who have chosen this beautiful location in the middle of the bathing season. President of the Consortium Franciacorta, fully satisfied with the outcome of the event said: "The Versiliana" - said President Maurizio Zanella - "represents an important market for Franciacorta, where we want to consolidate the image of prestige that is already recognized linked to our name." The Franciacorta Festival has also hosted during the event, the final contest Best Sommelier of Tuscany, which this year crowned for the second time a woman, Valentina Merolli from Florence. She is a professional sommelier for two and a half years working at Onyx Restaurant of Villa La Vedetta in Florence. Valentina Tonelli preceded Iacopo Tonelli of Florence and Daniele Arcangeli of Viareggio, after a series of theoretical and practical tests on the oenology and on the techniques of wine service. The champion said that she was thrilled and hoed this victory, given the investment of time (he worked and studied simultaneously.) For the Best Sommelier of Tuscany AIS 2010, this goal is only the beginning: for her is a great springboard.
IN EVIDENZA