Homepage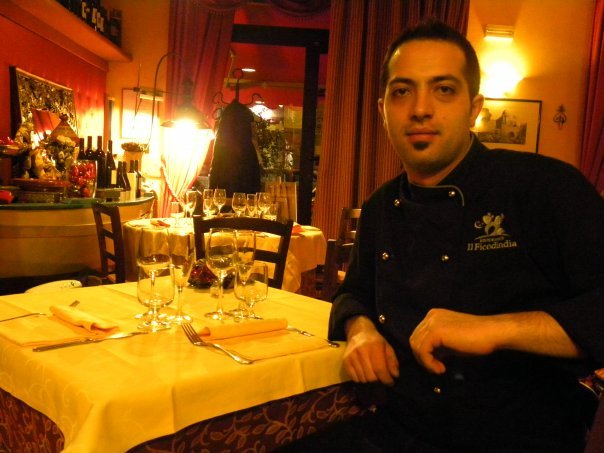 Sicilian restaurants in Milan? At the Fico d'India
The cuisine of Sicily in Milan, thanks to the imagination and tradition of Chef Salvatore Giaramida of the restaurant "Al Fico d'India".
The real "Milan men of Milan" no longer exists now. The mixture with Naples, Puglia and Sicily has become chromosome common practice. Beyond this cultural advantage, however, find a good Sicilian cuisine restaurant is a real problem. It is even harder when you try to find a "creative" Sicilian cuisine restaurant.  In via Bonghi in Milan however, it seems that the chef
Salvatore Giaramida
, originally from Santa Ninfa in the Belice Valley, has brought not only the gastronomic traditions of Trapani, but also a fervent personal fancy. Grown with the teachings of Master George Graziano in San Vito Lo Capo (TP), he moved to Milan for several years and his restaurant "Al Fico d'India" (
www.ristorantealficodindia.it
) is an excellent location to enjoy and taste the typical Sicilian food. You have to taste the slight Caponata, without peppers and with unusual scales of cocoa: this recalls the chef's grandmother, when she was telling him about the times when she used to serve the military a chocolate bar to soften the caponata. The eggplant pie with tomatoes and salt ricotta Made in Sicily is the antic Trapani dish that is sublime. Especially the second dish, which is a gazpacho with fried anchovies with chickpea flour. Superb goodness from Trinacria! The cous cous with fish with cinnamon is well balanced and makes the mind travel to places in the Middle East; the Macco of bean is a simple but tasty purée of broad beans, with vegetables and flavored ricotta or with mussels (at choice). At the end Sicilian sweets pastry: Cassata, Cannoli and fabulous sweets made of almond paste. Homemade, like in the old time, these regional pastries warms the soul, fills him with joyful calories and it does dip in the crystalline sea of Sicily. Sicilian restaurants in Milan? It knows it well Salvatore Giaramida and its delicious Sicilian cuisine.
IN EVIDENZA