Homepage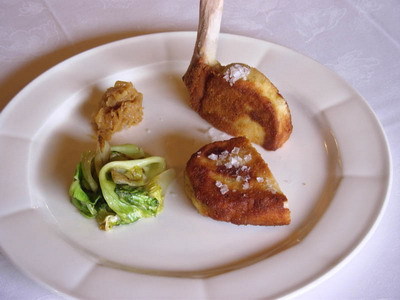 Pubs in Milan? The Nuovo Macello
The Tavern Nuovo Macello in Milan, via Lombroso 20, faces the Milanese cuisine in a light, engaging and pleasantly titillating way.
Tavern Nuovo Macello, Milan. In enter with my wrapped up child in the cradle and the warm atmosphere of the ancient taverns of Milan extends in front of my heart. Among the false and queer restaurants in Milan, the Nuovo Macello (
www.trattoriadelnuovomacello.it
) oozes history from the walls, a family history that really loves the tradition. We're talking about Traversone family. Now in the kitchen is the last gourmet heir, Giovanni, and his close friend, Marco Tronconi. Together they have given life and luster to a concept increasingly needed in Milan: the gourmet restaurant. Wooden tables, wooden chairs, and tablecloths, sober glasses, friendly and informal service: to give vent to all the simplicity that each would need to come back in his heart. Everything, I repeat, to enhance the true protagonist of the restaurant: the food. Milan's cuisine is cooled by really seductive starters. The tartare of Manzetti Lodi, candied lemon, salt, rosemary, lavender and brown bread made me thrill as if I had in the mouth the old farm of Nonna Papera. The Raw red shrimp, smoked ricotta, strawberry, lemon, oil and oregano have raised delicacy of flavors, including mythological umami. The Paccheri " Vicidomini" stuffed with zucchini and mussels in spicy sauce with turmeric and lemon are very insightful, eclectic and acidulous with class. Turmeric is said to prevent Alzheimer, and then find a noble excuse to not do the elegant shoe with a fork. Very truthful mussels, pasta with crispy duck skin. So the mythical "ancestral cutlet" of the  Nuovo Macello: Milan has found its true and erotic Milanese cutlet. High, half cooked, breaded and golden in the clarified butter. What exceptional child feelings! I speak that I had a grandmother from Milan, and then stir up the chromosomes when a true cutlet go down the esophagus. How exciting! But this is not enough excitement that comes immediately to another, the last: with a glass of wine Visciola Vicari, the Tirami-su of the Nuovo Macello. The taste of the original, but completely different consistencies: cocoa pod above, extraterrestrial mascarpone in the middle and ice coffee in the bottom. Chefs Giovanni Traversone and Marco Tronconi are really smart, educated, young, idealistic, generous, and full of energy and love of Milanese cuisine. In the room there was missing Paola, Mr. Claudio told me, to ensure that the service would be perfect! Better than that? Nobody believes it.
IN EVIDENZA