Homepage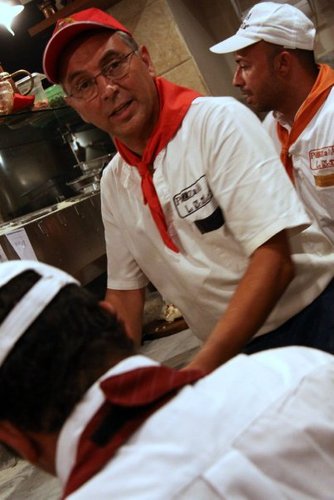 Pizzeria La Notizia in Naples and the true Neapolitan pizza
New place for the pizza master Enzo Coccia, owner of the pizzeria in Naples La Notizia, the only pizzeria in Italy reported in the Michelin guide.
New restaurant with a lot of novelty in the menu for the pizza master
Enzo Coccia
, owner of the La Notizia pizzeria in Naples, the only pizzeria in Italy reported in the prestigious Michelin Guide. After the two opening nights, from Wednesday, October 13th 2010 open to the public in Naples via Caravaggio, 94/A the new Pizzaria La Notizia, a veritable temple for the true gourmet pizza. The elegance and comfort of the new place will be up to the quality of the pizzas, of which recognized extraordinary lightness and digestibility are known for some time overseas. The work, under the careful supervision of the architect Renata Di Martino, lasted more than one year from the oven made by the master artisan
Stefano Ferrara
to the cold storage at different temperatures and humidity in which will make a fine show the many excellences selected with great care to be used in the preparation of pizzas.
Enzo Coccia
, of which pizza recipe we have already spoken, realizes the true Neapolitan pizza using the tomatoes of Vesuvius Piennolo of the House Barone of Massa di Somma (NA), the tomatoes of San Marzano of the Annalisa Company from Castel San Giorgio (SA) and buffalo mozzarella from the Dairy Barlotti in Paestum (SA).  Together with the pizzas are also offered excellent craft beers from different companies: the brewery Karma of Alvignano (EC) with the clear Marylin and Cubulteria, the Saint John's of Faicchio (BN) with red Marzen, and the Marches Collesi Apecchio (PU ) will offer the Imper Ale and the Piedmont Menabrea of Biella the clear beer of the 150th anniversary. Closing in style with the spirits of the Eden of Massa Lubrense (NA). Address: Pizzaria La Notizia, Via Michelangelo da Caravaggio 94/A, 80126 Naples. Info: 
www.enzococcia.it
IN EVIDENZA