Homepage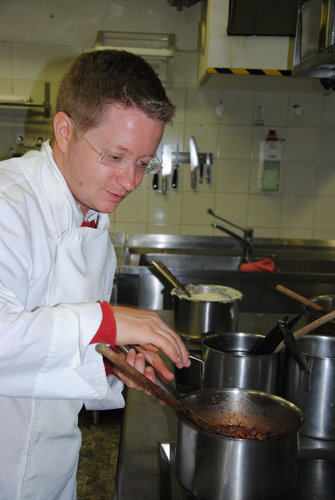 Nicolò Bagna at the Hotel Rosa Alpina in San Cassiano
The story of Nicolò Bagna, sous chef of Norbert Niederkofler of the Hotel Rosa Alpina in San Cassiano (BZ).
When he packed his bags to move from Canneto to Oglio, where he worked as the chef de partie at the restaurant "Dal Pescatore" of the spouse Santini,  Nicolò Bagna didn't thought of having to add to the baggage a couple of hiking boots. What in the world: he was about to start a new chapter of his professional life to the "St. Hubertus" of the Hotel Rosa Alpina in San Cassiano (BZ), excellent dining of Alta Val Badia consecrated with two Michelin stars! "At best - I thought - as chef de partie I will need some elegant shoes for the most important occasions", says Nicolò ... But no. He did not know what the fireworks chef Norbert Niederkofler had for him: dinner in mountain huts at a height of 2,000 meters, culinary events on the track (from skiing), cooking lessons at the other end of the northern hemisphere, banquets for over 1,000 guests in association with large corporate events. "The bolder experience - tells the twenty-nine years Nicolò Bagna was when a wealthy Swiss industrialist has strongly wanted to celebrate his birthday with about thirty of his friends. The fact is that a helicopter from Canton Ticino has taken us to the Hotel Rosa Alpina San Cassiano to take us to destination - cooks, cooking utensils and dishes included - to bring us back home at four o'clock at night." He, hard-working spirit and perfectionist, as befits a Piedmontese is now prepared to face any situation, skillfully fulfilling the task of "right arm" of chef Norbert Niederkofler.
Nicolò Bagna
is in fact the person in charge of the catering of the company Partyservice and the contact person for each event related to the restaurant "St. Hubertus "and to the figure of Norbert. He follows him like a shadow, taking charge of all aspects of formal, bureaucratic and organizational aspects. Accomplice to the mastery of three languages - English, Italian and French - and a curriculum of respect in the kitchens of the best restaurants in London, Monte Carlo and Roanne in France.
www.rosalpina.it
IN EVIDENZA