Homepage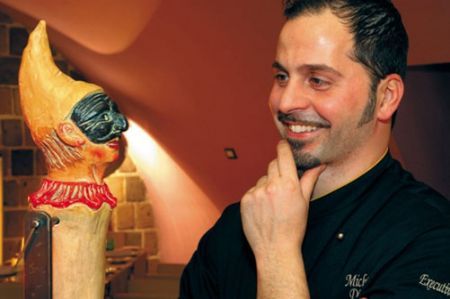 Haute Cuisine at the Grand Hotel Angiolieri
Angiolieri Grand Hotel in Vico Equense (NA), restaurant L'Accanto: Chef Michele Deleo entartain and is entartaining with haute cuisine.
Enjoying the gourmet cuisine in front of Mount Vesuvius, just at the Grand Hotel Angiolieri in Vico Equense near Naples (
www.grandhotelangiolieri.it
).  Michele Deleo is the chef at L'Accanto, the one that while cooking has before him, fortune of fortunes, the Amalfi Coast. Imagining the poet of taste, in a thrilling landscape: here is the sensation of tasting menu! The application of the table on the terrace is mandatory, is the heart which requires no brain. Next to me the wise, humorous and gallant Maître Sommelier Mario De Martino accompanies me on the alcoholic journey, always tied to the territory. The cuisine of Michele Deleo is artistic, crackling, ornate, refined and certainly Neapolitan, from land to sea, and recalls the ancient festivals of Aragon, those in which the king was offering colorful and playful banquets to his illustrious guests. The pink shrimp is a journey into the culture of shellfish, depicted and cooked in milfoil, marinated, sausage. I have never cheered so for the pink shrimp, and all these greedy "thousand faces". Accompanied by a superb Falanghina 2006 Late Harvest of Farm Frattasi the game sweet-crustacean-fading is bursting nicely into the mouth. Then you go to the woods, the interior of Campania: The Quaglia is also reviewed in all its parts. The leg, sausage, chest and then a beautiful parfait with Controne beans soup, crunchy celery and honey. The Greek of Tufo Quintodecimo 2007 is a perfect match, on the advice of Mario De Martino, an old fox who knows a lot about the art of charm. The Pasta Gragnano is playing with different shapes of pasta and seafood, raw and cooked.The pork and lobster live an unprecedented marriage between them, but tremendously guessed: the richness and smoothness, the characteristic strong taste and the similarities between the two animals. All softened by divine and mythological annurca campana. To clean your mouth comes a Aglianico Donnaluna Conciliis 2005. And the cake? You could not miss a wonderful Neapolitan Baba with grapefruit and creamy chocolate salt ice cream. My esophagus has screamed from pleasure, the brain has followed accordingly. At the Grand Hotel Angiolieri in the restaurant next to Michele Deleo, to enjoy a  really tasty panorama.
IN EVIDENZA