Homepage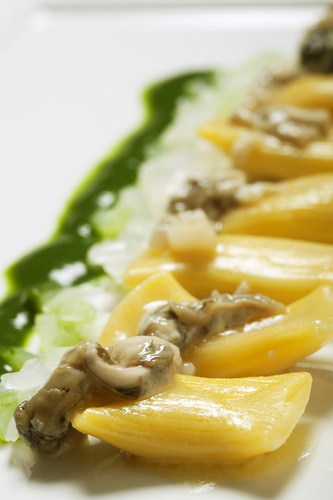 Great Chef Recipes: Aurora Mazzucchelli and the oyster sauce
Great Chef Recipes. Among the recipes for first dishes the Macaroni pasta with oyster sauce of Aurora Mazzucchelli from the Restaurant Marconi in Sasso Marconi (BO).
Aurora Mazzucchelli
is part of the small entourage of "gourmet women in kitchen" that are doing great the cuisine of Italian. Her Restaurant Marconi in Sasso Marconi (BO) is one of the landmarks of creative cuisine in Emilia Romagna (
www.ristorantemarconi.it
). After learning the techniques and aesthetics of the great chef
Herbert Hintner
, 
Aurora Mazzucchelli
has taken the reins of the Marconi restaurant and from then she is doing haute cuisine recipes really interesting. Her Macaroni with smoked eel, oyster sauce and spinach sauce are a great dish. Great chefs' recipes and first dishes? Here is the creation of
Aurora Mazzucchelli
! Ingredients for 6 people:
400 g semolina of durum wheat
100 g flour 0
3 eggs
3 egg yolks
Water
200 g smoked eel
60 g butter
An onion
Coarse salt for cooking
500 g fresh spinach
12 oysters
Salt, pepper and extra virgin olive oil.
Preparation
Cook in a pan the onion seasoned with salt and oil in a bag in the oven at 180 ° C for 20 minutes. Clean the spinach, cook in water and blend to obtain a cream. Whisk the butter with smoked eel to obtain a filling. Open the oysters; put aside roughly chopped clam and get some water that is inside the shell that we need for cooking. Prepare the macaroni with the press and stuff them while fresh with eel, closing the two ends will get a sort of ravioli-shaped macaroni. Just before serving, cook the macaroni in salted water, cook in the pan with the water of oysters and a knob of butter.
Presentation plate
Put a mirror of spinach hot sauce in the pot, some petals of onion, oyster sauce and the macaroni.
IN EVIDENZA