Homepage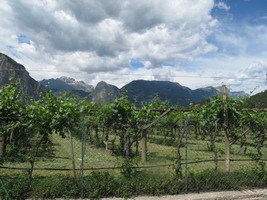 Gino Pedrotti and the Santo Trentino Wine!
The Santo Trentino DOC Wine, production of the farm Gino Pedrotti, is a good "noble" wine obtained by Nosiola grapes.
The farm and vineyards are located around Lake Cavedine: expanses of vineyards, well ventilated by the time of Garda (typical wind from Lake Garda), arranged in a pergola or trellis, with particular attention to the selection of grapes. One of the products of great value, synonymous with the Valle dei Laghi that deserves to be mentioned for its merits and the Vino Santo Trentino DOC: the climatic characteristics of this area made possible to produce this "noble" wine. Produced in limited quantities, this wine comes from a careful and meticulous selection of grapes Nosiola, from which are chosen only the scattered clusters (those with sparse berries), from old vines in a few and separate parcels, on the lands allowing the long drying. The ripe grapes, harvested late, are lying on mats, called "arele", placed on the attic; the drying lasts about 6 / 7 months and then crushing occurs during Holy Week, according to the ancient tradition. The wine is put first in steel tanks and then is fermented for several years in oak barrels, resulting in an intense and characteristic sweet taste. The Santo Trentino wine is "extreme", which stands in the wine production company, is a meditation wine and an excellent tonic and restorative.
www.ginopedrotti.it
IN EVIDENZA