Homepage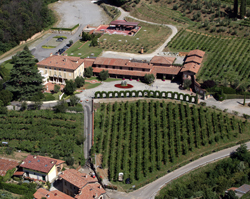 Franciacorta cellars? The Montina
Among the wineries in Franciacorta you cannot miss The Montina, where you can enjoy a truly sparkling Franciacorta wine, famous all over the world.
If you are looking for cellars in Franciacorta in order to taste the real Italian sparkling wine, the famous sparkling Franciacorta that is emerging around the world, do not miss a visit to
La Montina
, at Monticelli Brusati, (Brescia). Going through the vineyards, once you left A4, you'll be received by the hills and by the soft colors of Franciscorta, in a climate that even in the summer raise the spirits throw the breeze and the Mediterranean climate of this north east area of Franciscorta, close to the wooded valley Mugnina. Monticelli Brusati takes its name from the "mound" where is the area and seals of the winery named, also, by the hill of Monticello: "The Montina". 72 hectares of vines in 7 municipalities of Franciacorta, for an average production of 500,000 bottles of sparkling Franciacorta wine per year: La Montina numbers are certainly impressive. A long history shows that this company is among the oldest wineries in Franciacorta, from 1620. From 1982 is owned by the family Bozza, which brought the winery to its original splendor, creating in two decades a great family business. In 1985 the family also bought
Villa Baiana
, a beautiful villa from the 1700 located between the vineyards of Monticelli, in the town of Baiana. After extensive renovations, which have effectively erased, unfortunately, the vestiges of the past, Villa Baiana is now a villa for receptions, conferences, weddings and large events. The Villa also houses a museum of contemporary art "Remo Bianco", Art Gallery and Wine Shop winery for direct sales of sparkling Franciacorta wine. There are several occasions when Villa Baiana get animates for the Montina region, including "Summer Party" held every year in mid-July, where guests, friends and customers can enjoy a beautiful summer evening between sparkling wine, banquets and dances. There are seven production lines of sparkling Franciacorta Montina wine:
Franciacorta Brut, 95% Chardonnay grapes and 5% Pinot Noir
Franciacorta Extra Brut, 95% Chardonnay and 5%Pinot Noir
Franciacorta Rose Demi Sec, 60% Pinot Noir and 40% Chardonnay
Franciacorta Argens Saten Brut, 100% Chardonnay
Franciacorta Aurum Vintage Brut, 60% Chardonnay and 40% Pinot Noir
Franciacorta Rosatum Extra Brut Rose, 65% Pinot Noir and 35%Chardonnay
Franciacorta Reserves Vintage Pas Dose, 45% Pinot Noir and 55% Chardonnay
All seven bottles have completely
renovated their design this year with the twentieth anniversary of The Montina.
Among the wineries in Franciacorta Montina well worth a visit because it has always been one of the open Franciacorta cellars, welcoming wine lovers, and curious travelers. The family Bozza often organizes tastings of sparkling Franciacorta for its guests. If the wines of Franciacorta are your passion, you cannot miss to taste the bubbles that are making famous these region worldwide thanks to an excellent mix of quality, traditions, territory and commitment of companies and institutions.
IN EVIDENZA