Homepage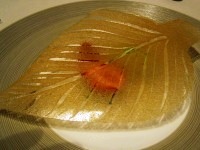 Food and wine events: Lo mejor de la gastronomía
From 6th to 9th of November 2010 will be held in Alicante the XII edition of the Congress "Lo mejor de la gastronomia"
At the twelfth edition of the Congress "Lo mejor de la gastronomia", which will be held 6th to 9th of November 2010, there will be a qualitative leap in the direction shown last year in Alicante. The City of Gastronomy takes shape, it will become a reality. There are 170 labs, compared with the 50 of last year, laboratories of haute cuisine, of traditional cuisine, of products, at all levels, to participate all to compose their own menu. Gastronomy of high-quality. To this must be added the auditorium and the competitions: will be staged 700 professionals, a number that far exceeds that of all previous editions. The tastings will take over the exhibition site: more than 75 stalls of bars, 10 restaurants, hundreds of tastings. Eating and drinking at low prices, to spread among amateurs and professional knowledge of wines, delicacies, kebabs, dishes, desserts, cocktails, etc. Is given even greater visibility to the Mediterranean cuisine in a cosmopolitan spirit, increasing the presence of Andalusia, Murcia, Comunità Valenziana, Catalonia, Provence and the Riviera, Italy, Croatia and Lebanon, not to mention the presence of great chefs from other places. At the "
Lo mejor de la gastronomia 2010
", the great Italian chefs will intervene in the conference in auditorium and at the demonstration lessons and at the cuisine laboratories. At the event will take part the biggest "stars" of our country: Mauro Colagreco – "Mirazur"; Ilario Vinciguerra – "Ilario Vinciguerra's Restaurant"; Aimo Moroni  – "Il Luogo de Aimo e Nadia"; Matteo Baronetto  – "Ristorante Cracco"; Paolo Lopriore – "Il Canto"; Massimiliano Alajmo – "Le Calandre"; Davide Scabin -  "Combal.Zero"; Mauro Uliassi – "Uliassi"; Enrico and Roberto Cerea – "Da Vittorio"; Pino Cuttaia – "La Madia".
IN EVIDENZA