Homepage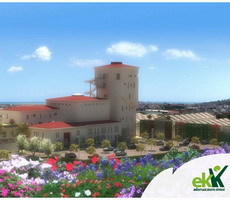 EKK: here is Abruzzo!
Presented at the Capistrano restaurant in Milan the project Ekk, with the intention to enclose in one place the best expressions of Abruzzo: hospitality, local produce, respecting nature, food and wine
It was recently presented a plan for a place, a sort of innovative farm in Abruzzo, where will be possible, by next autumn to visit and to enjoy the hospitality, typical products and wine and lessons of gardening! The presentation took place at the cuisine restaurant Il Capistrano from Abruzzo, in Milan, in consonance with a gargantuan dinner evocating the Panarda.  The latest, which dates from the XV century, was a feast that lasted several days, given that consisted of at least forty-course (for up to sixty); a rite of manhood, which flaunted the wealth, where every dish was announced by a cannon shot and where there were a herald of the table and a canteen keeper (to make sure everything was tasted). In this atmosphere of celebration of "big binge" is therefore exposed the project Ekk, which means, in Abruzzese dialect, "Here it is", the term chosen to indicate that, in one place - the historic cellar Santangelo, at the foot of the beautiful village of the city Sant'Angelo, a few miles from Pescara -  you can actually find  the Abruzzo at a glance. The activities will be Ekk Hotel, Ekk Typical of Abruzzo, Ekk Restaurant, Ekk Garden, Ekk Cafe, Ekk Business Centre. Although autonomous, all are closely related. The Ekk Hotel will belong to the chain Ecoworldhotel and will be unique, not only for environmental respect but also for having revived the winery making it a place of hospitality. Other examples include: the rooms are housed in the old cement tanks of the Santangelo cellar, each room will be the result of recovery of the places where, once, was born the wine. Ekk Typical Abruzzo will host the permanent market of the typical product that will make the audience discover the excellence of Abruzzo products, divided by individual province Pescara, Chieti, Teramo and Aquila, each with its peak of quality, from cheese to salami, oil, wine, from saffron to lentils, from varieties of wheat to varieties of truffles.  To better guide the buyer, the staff will be "formed" directly by producers and also become a true consultant of their products and their combinations. Ekk Restaurant will host cooking classes, theme nights and show real cooking, just like Panarda!
www.ekk-tipicodabruzzo.it
IN EVIDENZA