Homepage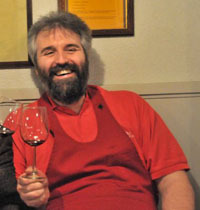 Buy wine and have fun? In the pub!
For an inn that you can define so: 50% is the figure of the host, the other half is divided between wine and culinary proposals
A form of aggregation and banquet, especially in the North, was ousted and replaced by the chic wine bars where more attention is paid to landscaping aesthetics of the room, the sleek design, and the uniforms coordinates, rather than to the warm welcome of the patrons. The signs "Tavern" or "Inn" now appear rarely and what we most regret is the loss of a professional really interesting, fundamental to the very existence of the Inn: the landlord or the innkeeper. But who is this character, so beloved by nostalgic Italian singers - such as Gucci in his "Song of the inns outside the city" - and present in so many tales, from Pinocchio? We asked at whom makes it as a profession and passion for years, Vigna del Mar Inn at Monopoli: 
Luciano Lombardi
. Frank and sincere, the innkeeper Lombardi has the magic formula of an inn that you can define like this: 50% is the figure of the host; the other half is divided between wine and culinary proposals. But the innkeeper is not only a sommelier or waiter, he is an entertainer: not compare him to a court jester, the innkeeper, as well as having good professional skills and knowledge of the product offering, must be able to put at ease the customer. The service and atmosphere are "less plaster", given the clumsy figure of the innkeeper; the landlord probably born in that way because the predisposition to dialogue and being able to empathize with people is an innate gift! Surely you must then perform all the tasks to be professional and, therefore, the experience is important. Vigna del Mar Inn is a place of free thought, shared by diverse groups of people linked by the common thread of passion for Italian and foreign wine and, here, even for craft beer. In the Italian tavern you go to a few dishes, recipes invented and fresh tastes and flavors imprisoned in the casket of memory, you are going to try labels recommended by an expert - the landlord - and to stay with friends and have fun, just as at home with friends. Finally, citing Luciano Lombardi: "The landlord has the dogma of infallibility in his tavern" ... well, how to contradict the landlord?
www.vignadelmar.it
IN EVIDENZA