Homepage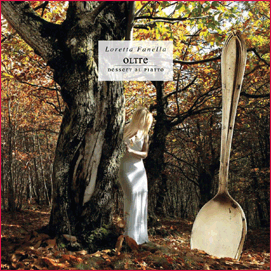 "Beyond" cookbooks is Loretta Fanella
The book of Loretta Fanella, beloved signature pastry.
In late January 2010 was released the most anticipated books of pastries, one of the fabulous Loretta Fanella. Her creative cuisine, magical recipes, pastry really tied to the world of imagination and fantasy are finally collected in an exciting photo cookbook. Its name is "Beyond" (Oltre), published by Avanguardia Culinaria.
Loretta Fanella
worked with the elite world of creative cuisine, with Ferran Adrià, Carlo Cracco and in the Pinchiorri wine-shop; and now has decided to continue alone, between external collaboration and specific courses of pastry. "Oltre", between the books of creative cuisine, is a handbook full of breathtaking images, imbued with colorful recipes, cutting edge pastry, and childhood dreams. Her Sottobosco is a spectacular sweet, allegory of sylvan nature; then fairy tale swans, colored letters, the fruits of Eden and atmosphere of "Alice in Wonderland" overlap between the pages, with a schematic practical description of recipes. Creative pastry, Loretta Fanella is human imagination in unison!
www.avanguardiaculinaria.com
IN EVIDENZA