Homepage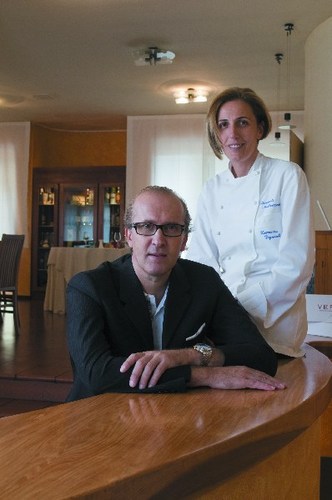 A chef and her "typical cuisine of Abruzzo"
Domenica Vagnarelli is the chef of the Mediterraneo restaurant in Alba Adriatica (TE). An emerging talent in the cuisine of Abruzzo.
The fish is the great love of
Domenica Vagnarelli
and not by chance that her restaurant is called Mediterraneo and is situated near the sea that washes Alba Adriatica (TE). Her cuisine is a cuisine of flavors and colors - which are drawn from the sea - and goes to meet with imagination the products of Abruzzo updating the classic cuisine of Abruzzo, with little influence from Marche and Puglia since the origins of Domenica are in Marche and of her husband in Puglia. Examples are the dish "My beans and chicory", a ball of shrimp with soft heart of fried chicory served with cream of beans. The "Miwine", the dish that Domenica has created a few years ago at a wine tasting event:  Rigatoni Verrigni with Arnad bacon marinated with Montepulciano d'Abruzzo, seafood and Pecorino cheese of Pienza. "I cook with passion, I approach it with my heart because it has to be done for good", says the chef. The dining room and the wine cellar of the Mediterraneo are cared by the husband of Domenica , Giuseppe Lo Bello,  wine lover but above all of beer.
www.ristorante-mediterraneo.com
IN EVIDENZA